Olorama digital
smell technology implements definitively

Smell-O-Vision
Hans Laube is regarded as one of the founding figures of smell-o-vision approach to audiovisual-smell experience.
Now Olorama provides a professional smell technology to incorporate the sense of smell into movies.

PRICING
DAZZLE AUDIENCES
You walk down the carpeted hallway and into the movie theater… you find your seat… The lights dim… you clutch your bucket of popcorn to your chest… open your eyes…
and… surprise!
The smell of strawberries and cheese sucks you right into the film…

A FULL HOUSE
Offering audiences new sensations is proving to be key to resuscitating what is an ailing industry. Olorama represents a great opportunity: 95% of audience members who have already experienced it would be willing to pay more for tickets for films including scents…

CONTACT US
SMELLS GUARANTEED
Each new scent is sensed by the viewer in all its intensity, with no mixtures spoiling.
Our scents are fully certified as safe, non-toxic and allergen-free, making Olorama a system suitable for children and adults alike.
Easy to install
Olorama features very compact, hidden scent devices that are installed under seats (One device for every 10-12 seats, depending on the theater)
Olorama Technology offers to the audience a complete scented audiovisual experience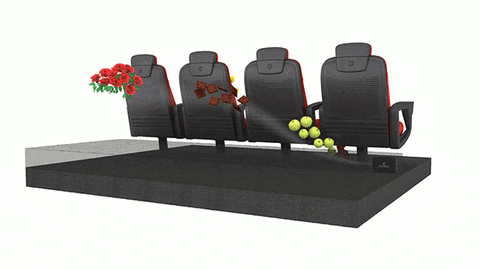 HOME THEATER
Humans remember 1% of what they touch, 2% of what they hear, 5% of what they see, 15% of what they taste … and 35% of what they smell.
Install Olorama Technology and everybody will realize that it's true. Nobody will want to leave the theater!
ORDER NOW
A UNIQUE EXPERIENCE
Only with Olorama can audiences feel like the star of the film. The aromas envelop you in your home theater as if you were right there, because nothing can draw you into a film like scents can. Olorama is the first in the world integrating scents into movies, right in your own home.
SMELL-O-VISION
Unforgettable audiovisual experiences
Contact us
Describe your project here and we will respond your questions within 24 hours :